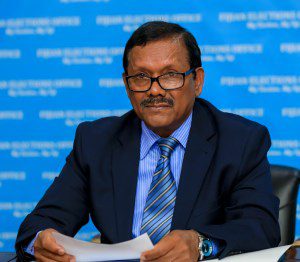 Mr Suresh Chandra, is the Chairperson for the Fijian Electoral Commission, appointed to the position by His Excellency the President of the Republic of Fiji on 3 February, 2017.
A legal practitioner by profession, Mr Chandra is a proprietor of MC Lawyers, a private practice which he joined in 1993.
Mr Chandra has served in the Public Service Commission in various capacities, namely as the Acting Deputy Receiver (1997 and 1979), the Executive Officer/Marriage Officer in the Registrar of Births, Deaths and Marriages Office (1976), the Deputy Registrar of Titles and Deeds (1977 – 1985) as the Registrar of Titles (1985 – 1987) and then as a Legal Officer (1991 – 1993).
He attained a Bachelor of Arts degree from the University of the South Pacific and an LLB from the University of Otago, New Zealand. He was admitted as a Barrister & Solicitor in the High Court of New Zealand in 1991, then the High Court of Fiji in 1992.
No stranger to elections management, Mr Chandra was appointed as Chairperson of the Boundaries Commission in 2008 to facilitate general election in Fiji.
Mr Chandra was raised from humble beginnings in Tavua, and is married with one child.